Prescription Lenses | solos®
Empower Customers to Customise Their Lenses with Variant Options.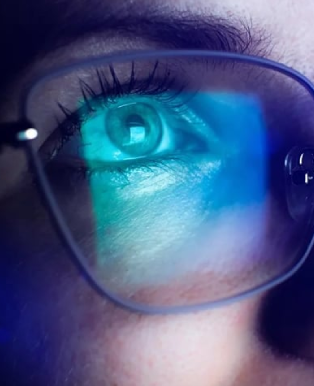 Transparent UVA/B, UV420 Blue Blocker with AR
All solos® smartglasses come with lenses that fitler out the harmful UVA/UVB rays in the sun. Much like an invisible shield, they guard against the harmful effects of prolonged sun exposure, which can accelerate eye aging, cause cataracts, and disrupt your vision. It's essentially like having sunscreen for your sight, safeguarding your eyes just as you'd protect your skin.
UV 420nm-cut lenses provides protection from high energy blue light emitted by computers, phones, and most electronic devices. Prolonged exposure to blue light can strain the eyes, disrupt your sleep patterns, and potentially harm your vision over time. By shielding your eyes from this blue light, you're not only ensuring clearer vision but also promoting better sleep and overall eye health.
AR as Anti-Reflection coating, with reflections reduced, more light passes through your lenses to optimize visual acuity with fewer distractions.
Protect eyes against high energy blue light and UV, address digital eye strain.
Photochromic Lenses
Photochromic lenses reduce the need for two separate pairs of prescription eyewear. They also provide complete protection from UVA and UVB rays. Continuous exposure to UVA and UVB rays can damage the eyes and the skin surrounding them. However, due to the presence of photochromic lenses, the extent of the damage may be reduced.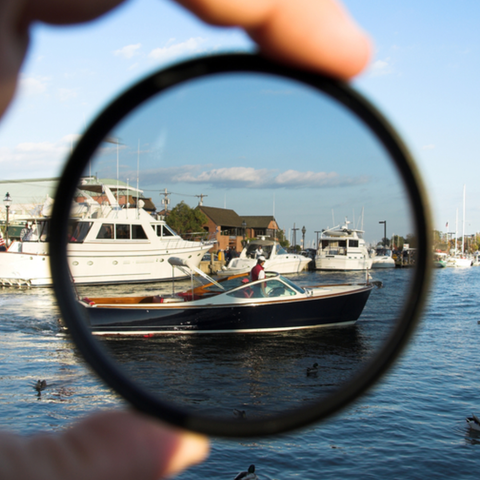 Polarized Lenses
Polarized lenses have a special chemical applied to them to filter light. The chemical's molecules are lined up specifically to block some of the light from passing through the lens. Think of it like a miniblind hanging in front of a window.

How to Submit a prescription smartglasses for solos®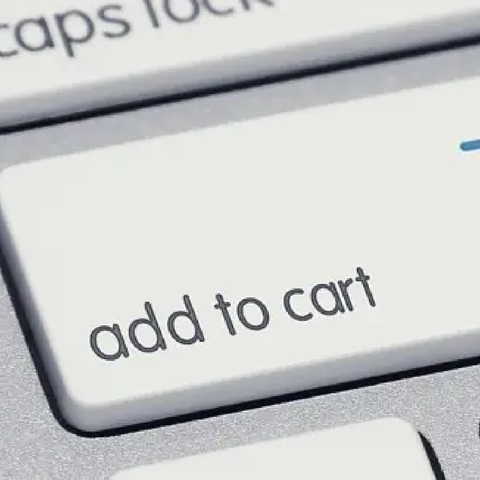 Enter your Prescription Manually
The next step is to customize your lenses to your individual requirements using your prescription.
Get New Smartglasses
Submit your order, your new solos® Smartglasses will be delivered right to you.
Select Lenses
You can purchase solos® smartglasses through solosglasses.com, or at our retailer Partner.
Once you select your collection and frame, you'll then choose your prescription lenses though "select lenses" button if needed.
Choose Your Prescription Type
You'll then choose your prescription type as free lenses, non-prescription lenses and single vision lenses.
Photochromic and Polarized lenses will incur an additional cost. Free lenses are depended by the collections.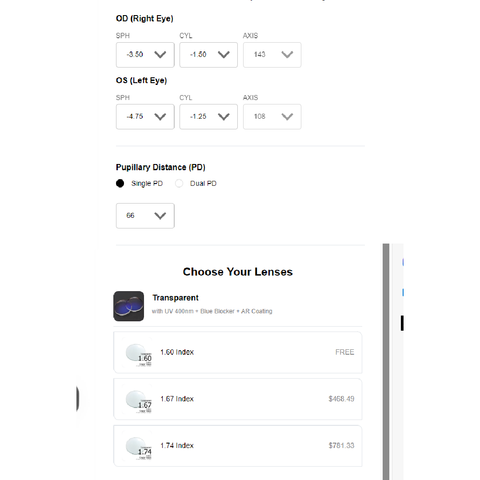 Enter Your Prescription Manually
Enter your prescription manually and choose your lenses.
If your prescription is out of bounds for 1.6 lenses index or you choose 1.67 index, 1.74 index and prescription Photochromic & Polarized lenses also will incur an additional cost.

Enter your Prescription Manually
When placing an order through our website, you must ensure that any orders placed are correct. If unsure on how to place an order, please feel free to contact us.
If you need glasses, your eye doctor will provide you with a prescription for corrective lenses. Eyeglass prescriptions may be written in different ways, though most are either printed or handwritten in horizontal rows.
The first row is the prescription for the right eye (OD), and the second row is for the left eye (OS). Within each of these rows are three values: Sphere (SPH), Cylinder (CYL), and Axis.
The SPH number corrects for nearsighted [indicated with a minus (-)] or farsighted [indicated with a plus (+)] vision. The CYL number and AXIS number correct for astigmatism. You may also have another field labeled as ADD which corrects for the reading power used in a bifocal or progressive lens.
Lastly, eyeglass prescriptions sometimes include the pupillary distance (PD) measurement, which is the distance between your pupils. PD is needed to determine where the optical center of the lens will be for clear, accurate vision.
When placing your order online, you must enter your PD.
An eyeglass prescription will usually expire in 1-2 years, depending on which state you received your eye exam.
All orders for prescription glasses are final and solos® is not liable for any errors made when entering your prescription information if placing an order online.
If you bring an external prescription to solos® to have lenses made and are unhappy with the results, solos® is not liable for any cost to change the lenses. All external prescriptions must not have expired and must have your full name and the full name of the prescribing optometrist.

Upload Your Prescription
Use your camera to take a photo of your written prescription or upload an image. Its Optional.
Since each pair of glasses is customised based on your prescription, we cannot offer any exchange for change of mind on prescription items. If the prescription provided from an external optometrist is incorrect or if the prescription is no longer valid, purchasers agree that solos® is not responsible for the cost of the remake and are not liable for any indirect or consequential losses.
For prescription lenses orders placed on our website, if you would like a different index or finish on the lenses, this will incur an additional cost as this will be considered a custom order from our lab.
All Argon default prescription orders placed on our website, come from our warehouse where the lenses are pre-cut. If you would like a different lens index or your prescription out of bounds for 1.6 lenses index , this may incur an additional cost as this will be considered a custom order from our lab.
Orders generally take around 14 business days for processing and to be shipped out but delays may occur which are outside solos®'s control. Once your order has been sent, please allow 3-10 days for postage. If collecting in store, a member of the team will be in touch once the glasses have passed our quality control checks and are ready to be collected.
Promotion of Free Prescription Lenses Offer
Where you are taking up solos®'s Free 1.6 index prescription Lenses offer for Argon collection, you acknowledge that:
Standard frames and lenses pricing applies;
Offer only applies when you purchase 1 pair of optical glasses; and
The offer cannot be used in conjunction with any other deal, discount, or promotional offer.
All Argon default prescription orders placed on our website before December 2023, come from our warehouse where the lenses are pre-cut. If you would like a different lens index or your prescription out of bounds for 1.6 lenses index , this may incur an additional cost as this will be considered a custom order from our lab.
Choose Your Lenses which Suitable For You
The higher the refractive index, the more light is bent by the material and the thinner the lens can be for a given power. Air has a refractive index of 1, and water is 1.33. A standard index plastic spectacle lens' refractive index is 1.5. A mid-index lens of refractive index 1.6, approximately 20% thinner than a standard lens. A high-index lens of refractive index 1.67 will be approx. 33% thinner, whereas a lens with a refractive index of 1.74 will be around 42% thinner.
The limits are currently set at -8.00 to +4.00 for 1.6 Lens , -12.00 to +6.00 for 1.67 lens, -and -15.00 to +10.00 for 1.74 lens.
To check that the limits are working properly, follow these steps
Select ENTER MANUALLY at the prescription screen
Select anything between -8.00 to +4.00 and PD>24/26/28/32/35, you will be see 1.6 lenses the selection screen.
Select SPH>-8.00 or +4.00, You will only see 1.67 or 1.74 lenses in the selection screen, as it is out of bounds for 1.6 lens.
Select SPH>-12.00 or +6.00, You will only see 1.74 lenses in the selection screen, as it is out of bounds for 1.67.
We recommend that all SPH>-8.00 or + 6.00 are purchased with our Thin & Light, 1.67 index lenses or above.
solos® provide 1.6, 1.64 and 1.74 prescription lenses, also with blue blocker lenses, Photochromic w AR and Polarized Backside AR.
Additional lens enhancements, frame upgrades and accessories are extra.
Please make sure all information that you have entered is correct and matches your prescription.  We are not responsible for any damage, delays, additional fees or other issues caused by incorrect information entered in your order.
How to Read Your Prescription
Glasses Prescription (SPH)
Your glasses prescription can be measured by an optometrist (OD) or ophthalmologist (MD), but the information belongs to you and you should leave the doctor's office with a copy of your glasses prescription. The glasses prescription can be used for any kind of prescription lenses on any kind of eyeglasses; your glasses prescription is not restricted to glasses that may be recommended by the doctor.
Also, be sure to ask the doctor to measure your pupil distance and write that down on the eyeglasses prescription as well. If you have your eyeglasses prescription with your pupil distance when you leave your eye doctor's office, then you can buy glasses with that prescription at any eyeglasses store.
Once you have your glasses prescription, you can submit your prescription to us. We can read your eyeglasses prescription and then help find the best prescription eye glasses lens for you. For multifocal orders, we require that you send your prescription to us.
Eyeglasses prescriptions have a certain format that is typically followed. The first line of your glasses prescription is always for the right eye, sometimes designated the OD. The second line is for the left eye, sometimes designated OS. The glasses prescription for each eye is divided into Sphere, Cylinder, and Axis values. It is common to have no values for any one of these, in which case you might see the letters PL or plano, or to have values for all of these. Sometimes the eyeglasses prescription may say OU which means both eyes.
Pupil Distance PD
An accurate pupil distance is a required measurement in order to make prescription glasses. Your adult PD never changes, and it averages 60 millimeters (mm) for women, and 64 mm for men. Sometimes your eye doctor will write your PD for each eye (for example 33/34, called a monocular pd). Or, the eye doctor may write the PD as 67/64. This means that your PD for distance vision (or DPD) is 67, and for near vision (or NPD, for reading eyeglasses or multifocal lenses) it is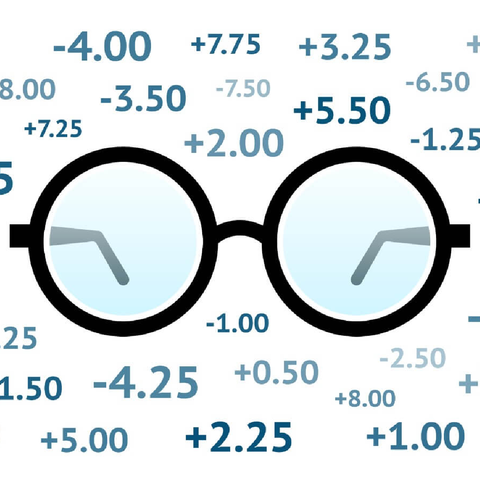 DISTANCE VISION (DV) & NEAR VISION (NV)
Distance Vision: Also known as being farsighted, longsighted or hyperopia. Closer objects appear to be blurred.
Near Vision: Also known as being nearsighted, shortsighted or myopia. Nearsighted means that with your natural uncorrected vision, you can see close or "near" objects but those further out get blurry.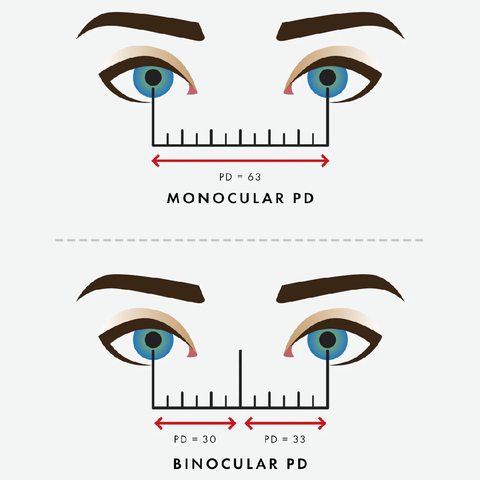 PUPILLARY DISTANCE (PD)
Your PD is the distance between your pupils. PD is used to center lenses correctly over your eyes.
Monocular PD: PD measurement written as two numbers e.g. 32/33
Binocular PD: PD measurement written as one number (if the left and right side have been added together) e.g. 65
SPHERE (SPH)
Sphere indicates the amount of lens power prescribed to correct nearsightedness or farsightedness. If the number has a minus sign (-), you are nearsighted; if the number has a plus sign (+) or there's no plus or a minus sign, you are farsighted.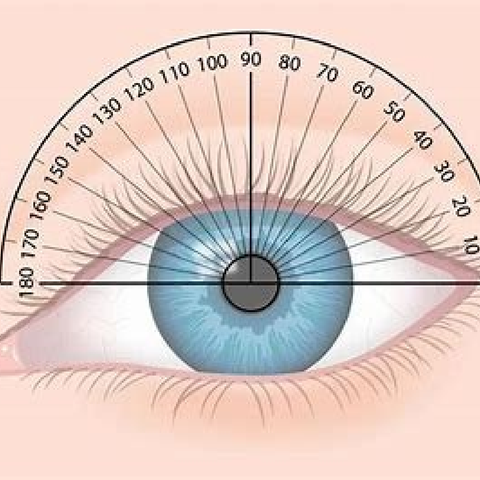 CYLINDER (CYL)
Cylinder indicates the amount of lens power for astigmatism. If nothing appears in this column, you have no astigmatism, or yours is so slight that it is not necessary to correct it.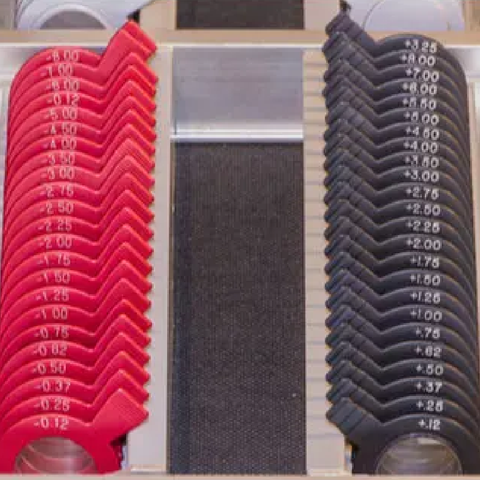 AXIS
Axis describes the lens meridian that contains cylinder power to correct astigmatism. The axis is defined with a number from 1 to 180. If your eyeglass prescription includes cylinder power, it also must include an axis value. It comes after the cylinder power and is preceded by an "x" when written freehand.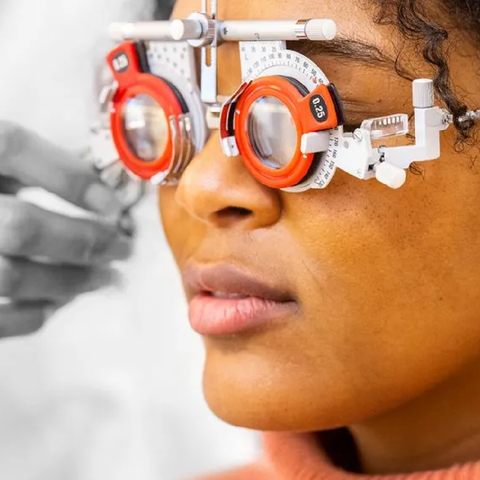 ADD
Add is the added magnifying power applied to the bottom part of multifocal lenses to correct presbyopia. The number always appears with a plus sign, and even if it doesn't, it's understood as a "plus" power.
It usually ranges from +0.75 to +3.00 D and will be the same power for both eyes.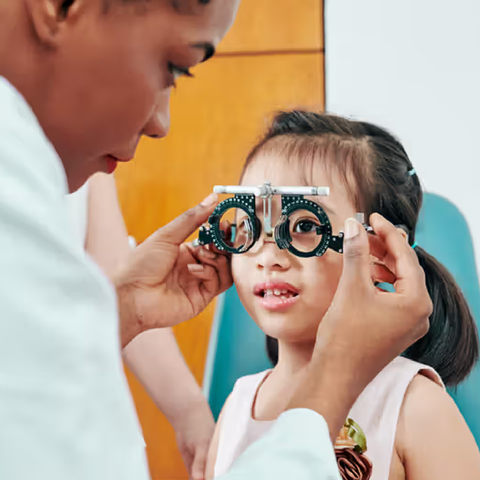 O.D. AND O.S.
OD and OS are Latin abbreviations. Oculus means eye, dexter means right and sinistra means left in Latin. OD stands for right eye. OS stands for left eye.
PRISM
Prism is the amount of prismatic power. It's prescribed to compensate for eye alignment problems. It's not commonly found in glasses prescriptions. When present, it is indicated in either metric or fractional English units (0.5 or ½, for example). The direction of the prism is indicated by noting the relative position of its "BASE" or the thickest edge.
Four abbreviations are used for prism direction:
BU = base up;
BD = base down;
BI = base in (toward the wearer's nose);
BO = base out (toward the wearer's ear).
Return Policy for Prescription Lenses
If you are not satisfied with the eyeglasses you have ordered from us, you may return them as described below. Accessories, other than eyeglasses, that are unused and in their original condition can also be returned as described below.
With a strong belief of customer experience is our priority - by implementing the "free shipping and free return" policy. We hope our customers could try the product first, and see if it assists you in your daily life. If it does, congratulations! We would love to hear more about your use case and reasons. If it does not, no problem at all, return it and we would like to hear feedback on how can we improve and better suit your expectations.
Prescription Lenses Return and Refund
You have 7 days from the date of delivery of your order, which is the day the order arrives at your home, to return items included in the applicable order for a one-time-use store credit of the list price of the prescription lenses your paid.
We are not responsible for damage caused by customer wear and tear.
Refund for a product will only be initiated after the product is received at our warehouse and has passed the requisite quality checks.
If you select the option of Store Credit while filing for Return, you will not be able to change it later. The Store Credit cannot be changed to a cash refund.
Except as may be required by applicable law, SHIPPING CHARGES WILL NOT BE REFUNDED UNDER ANY CIRCUMSTANCES. WE ARE NOT RESPONSIBLE FOR LOSS OF RETURNED ITEMS DURING SHIPPING.
Manufacturing and Other Defects
If you feel there is a manufacturing error, return the glasses for inspection within the 30-day warranty period. If our inspection shows the glasses were made incorrectly, we will remake them for you at no charge.
Problems with your smartglasses
If you're having trouble with your new solos® product, please visit "How to use solos®" or contact us.