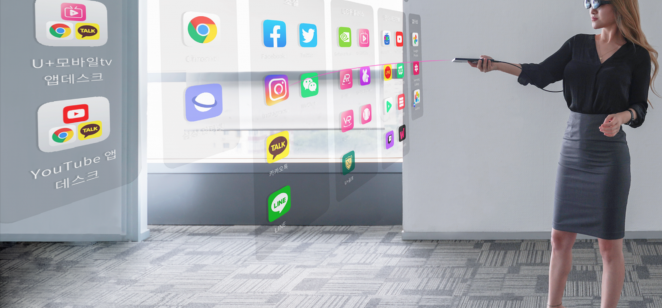 As the metaverse expands into the projected $300bn (£228.1bn) market by 2024, the race is on to create wearable technology to navigate the three-dimensional world in a hands-free manner allowing for everything from gaming to driving to performing surgery.
Alibaba Group Holding Limited (NYSE: BABA) YTD Performance - Photo: Koyfin
The recent $60m investment from Chinese tech giant Alibaba (BABA) in augmented reality (AR) eyewear start-up Nreal illustrates how rapidly this technology is becoming mainstream and integrated into our everyday lives.
"Honestly, I think these will become a mainstream thing, like mobile phones, in the near future," said George Bileca, CEO of metaverse architectural design firm Voxel Architects. "It is really hard to create this technology, though. Google (GOOG) tried it in the past and failed in doing so."
While Nreal is still private, CEO Chi Xu told CNBC Nreal hopes to sell shares to the public within five years, there are US companies at the cutting edge of this technology shaping the commercial and consumer markets of the metaverse.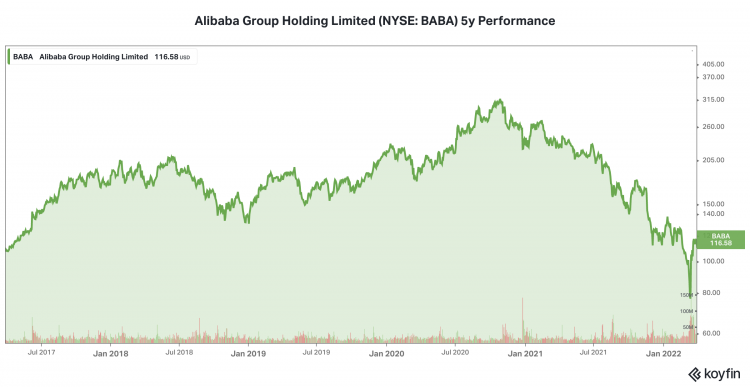 Alibaba Group Holding Limited (NYSE: BABA) 5-Year Performance - Photo: Koyfin
Nreal series C+ funding round
Bejing, China-based Nreal raised $60m in a series C+ funding round led by Alibaba, the company confirmed in an email to Capital.com. In the past 12 months, Nreal has raised $200m, including a $100m series C funding round last September, Nreal added.
Nreal's primary backer is Chinese EV maker Nio (NIO), which is developing a "digital cockpit" currently scheduled for a launch this year. Previous funding rounds have included investments from Yunfeng Capital, Sequoia China, Hillhouse, NIO Capital, Aplus, CICC Capital, Shunwei Capital, CPE, China Growth Capital, among others.
Nreal will use the proceeds to expand into new geographic markets this year, including China, as well as boost its R&D. Earlier this year the Nreal Light glasses began retailing in Verizon stores in the US and through NTT DOCOMO and KDDI in Japan.
Metaverse without smart glasses?
In a recent blog post, Rochester, New York-based Vuzix asked "is the metaverse possible without smart glasses?"
The answer is no, according to Ed McGregor, Vuzix director of investor relations, because "whether it is AR or VR, you will need visual immersion. And for that, you need a lightweight comfortable interface."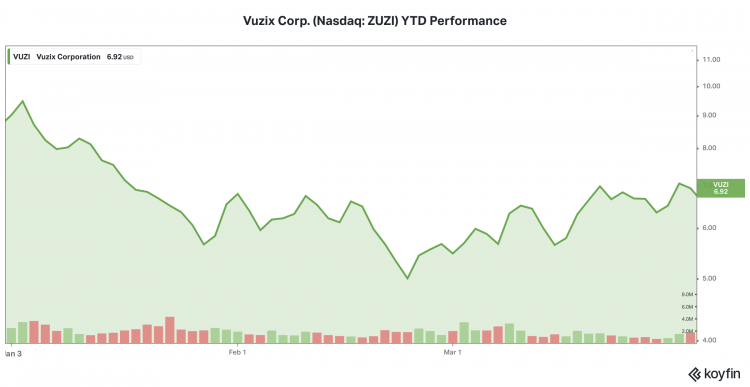 Vuzix Corp. (Nasdaq: ZUZI) YTD Performance
While not as stylish as the consumer VR eyewear products, "the enterprise sector values performance over style. And I think we are the only waveguide lens manufacturer in the US."
The waveguide lens technology allows the wearer to have instructions and notifications displayed on the wearable headset, in order to properly assemble a product in a warehouse or to receive maintenance alerts for warehouse machinery, for example.
"You can wear our glasses and see exactly how to assemble something, they are integrated with a microphone and speakers," McGregor added. "You are wearing a computer on your face."

Vuzix Blade smart glasses -- Vuzix Corp..
Rochester, New York-based Vuzix focuses more on the enterprise aspect of the metaverse, Vuzix offers six models of wearable VR glasses with four primary verticals: Telemedicine, logistics and warehousing, support and manufacturing.
"In 2022 our biggest growth vertical looks like it will be warehousing and logistics," McGregor added. Vuzix works with a number of Fortune 50 companies, including "some of the major retailers," on the list, McGregor said, while declining to name any specific companies.
"Some could start ordering in significant quantities this year," added McGregor. "Unlike the consumer sector, enterprise is willing to buy today with the tech currently available."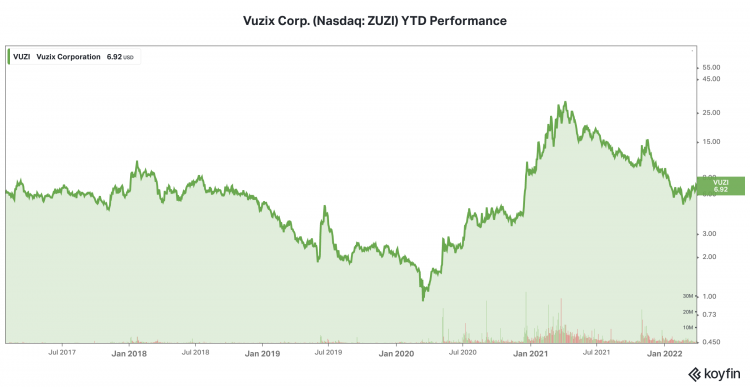 Vuzix Corp. (Nasdaq: ZUZI) 5Y Performance - Photo: Koyfin
Hardware lags the software
Westboro, Massachusetts-based Kopin, which makes wearable technology for the consumer, defence and industrial markets, thinks any wearable tech must be human-centric, said Kopin CEO John Fan.
"People will only wear anything if it is not only comfortable but also looks good, too," Fan told Capital.com. "AR eyeglasses are the same way."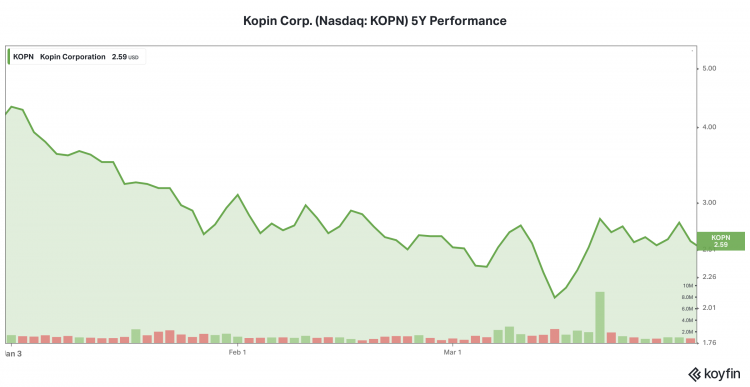 Kopin Corp. (Nasdaq: KOPN) YTD Performance - Photo: Koyfin
Kopin, which began making wearable technology in 1991 for the US military, announced a lightweight VR eyewear line using its All-Plastic Pancake proprietary technology. "The next VR headsets will use Plastic Pancake technology," Fan added. "Glass is too heavy and LCD is too slow – the gaming community doesn't like [high] latency."
Gaming is one of the most useful applications of this technology, added Fan.
Kopin's technology is used in the consumer eyewear brand solos smartglasses, which are expected to hit the consumer retail market later this year. "These glasses we are developing are full AR metaverse sunglasses," said Fan.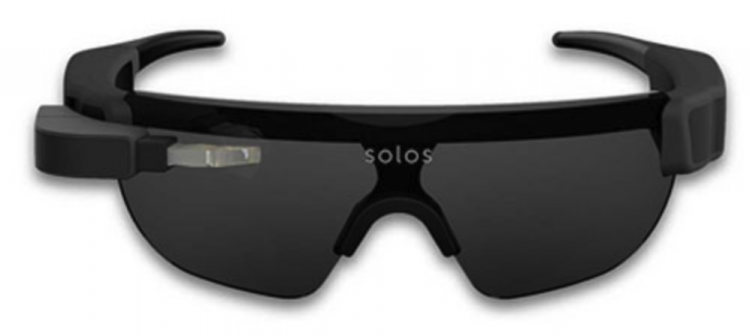 Kopin SOLOS Smart Glasses - Photo: Kopin Corp.
"We approach things human first, tech second," noted Fan. The hardware lags behind the software in the metaverse."
Kopin reported a $3.6m net loss for the full-year 2021, or 2 cents per share, $13.2m in revenue. Kopin stock trades on the Nasdaq exchange under the ticker KOPN.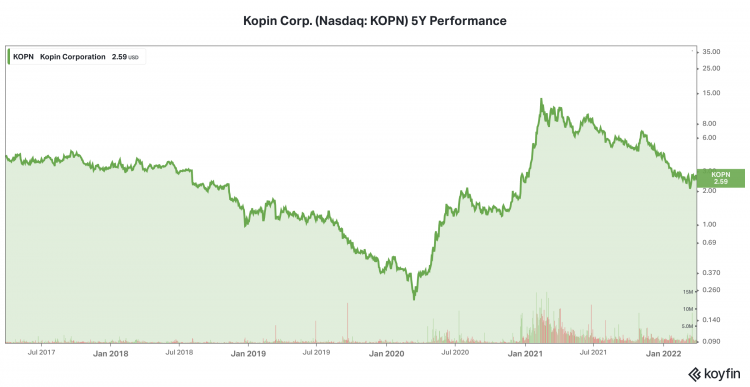 Kopin Corp. (Nasdaq: KOPN) 5-Year Performance - Photo: Koyfin
The glue holding it all together
Holding all of this streaming data together is the underlying infrastructure of the metaverse. Builders of that infrastructure include Agora, a shanghai and Santa Clara, California-based application programming interface (API) platform that helps developers embed real-time audio and video engagement into applications for any headset.
A cloud-based network layering platform, Agora "helps empower connectivity software," said Hermes Frangoudis, director of developer relations at Agora.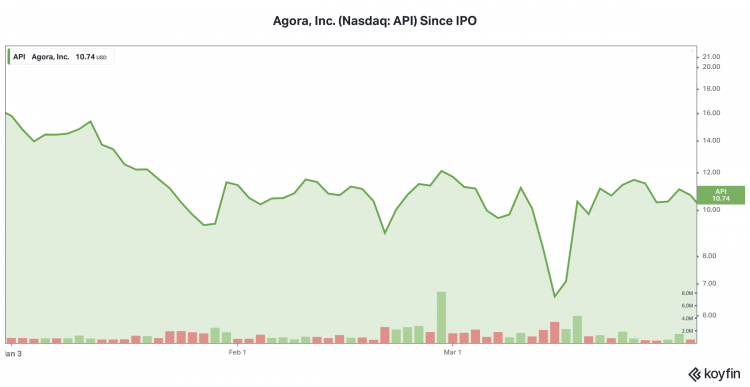 Agora, Inc. (Nasdaq: API) YTD Performance - Koyfin
"We develop the backend routes for the metaverse that lower the latency in data transmissions," said Frangoudis. "Low latency is the magic of the metaverse."
In addition to metaverse gaming, Agora is developing APIs for education, allowing for virtual interactive learning.
"The metaverse really changes how you can teach," Frangoudis noted. "Just like how YouTube democratised learning, a content creator can program lessons into a virtual environment and interact with students."
For example, using Agora's API technology, TribeXR offers virtual-reality DJ lessons in an immersive metaverse environment.
Agora reported a $72.4m net loss, or 66 cents per share, for the full-year 2021 on $168m in revenue. Agora stock trades on the Nasdaq exchange under the ticker API.
Source: capital.com