Argon 3 Smartglasses | AirGo™2
Rating: 4.5 out of 5.0
Frame Shape:
Modern Square
Material:
Acetate
Product Description
- solos Smartglasses have extended battery life so you can enjoy all day wear with 11 hours of music listening or 8 hours of call time to easily transition from work to play
- Superior audio quality for easy communication and Whisper™ Audio Technology that focuses on your voice and extracts background noise to ensure you're heard perfectly whether on a crowded street or the comfort of your own office
- solos Smartglasses with blue light blocking capabilities to reduce digital eye strain
Shipping & Return
solos is dedicated to offer convenient and reliable online shopping and delivery service experience. Simply select your products and destination, and we will take care of the rest.
If your purchase amount in a transaction is or above USD199, you will enjoy FREE standard shipping (on selected region).
More information here.
Size & Measurement
Best Fitting Face Size: M/L
Certifications & Awards
2021-22 Hong Kong Awards for Industries Consumer Product Design Grand Award
2022 – CES Innovation Awards
CE Certifications: Safety (Article 3.1 a), EMC (Article 3.1 b) , Radio (Article 3.2), Radio (Article 3.2)
Impressive
These smart sunglasses are a fun and functional accessory. The sound is great and these have background noise cancellation. They are lightweight and comfortable, as well. The lenses are fantastic and do a great job of protecting my eyes. The frames are well-made and very sturdy. They fit my face perfectly, which is usually an issue for me. I never like the way sunglasses look on me, but I really like these. The included instructions are easy to follow and include pictures as well. I do want to point out that it does say in the instructions that it contains magnetic material which may interfere with medical devices. Overall, these are a nice pair of sunglasses that are also functional for every day life.
Fantastic for audio on the go
This isn't my first pair of SOLOS smart glasses. I wear a pair of them at work all day with the blue light blocking lenses and quietly listen to music without bothering anyone. Not only is my eye strain gone, but I don't have to ask anyone to repeat themselves when they come to me with questions. My plan was originally to just purchase the front frame with sunglasses lenses in them and just change out the sides as needed after work, but came to realize it would just be another hassle to add to the day.
So, I just got another pair and the leave the other ones at work to charge as needed and use these after work driving home and for my evening walks. They are comfortable where they need to be, easy to use and the charge lasts quite a long time. I'm my case the sunglasses last about 6 days then they need a charge. Keep in mind I walk for an hour a day and sometimes an hour and half. The ones at work last a full day of work (8 hours) and then need to be charged. They are comfortable and can easily be worn even if the battery has been depleted for the day.
Keep in mind these are similar to bone conduction in which nothing really enters the ear and instead speakers are placed really close to the ear also allowing ambient sounds in as needed. In my case for safety I need to be aware of my surrounding and be able to hear everything.
The future of AirPods is here! Apple was supposed to make these. Great style and sound!
I bought these glasses because Apple's AirPods were falling out of my ears and I would constantly lose one of them when hiking or running, a total waste of money IMHO. Another issue with Apple buds is that to control sound volume I need to use my phone or watch, which is a distraction. Solos, on the contrary, works like a charm. It is super easy to adjust the volume level when listening to music, answering a call and talking while walking and hiking. I don't need to pull out my phone, everything is controlled with gestures on the right ear arm. Great!
First impressions. The glasses come disassembled in 3 pieces - the frame and two ear arms. All the electronics are hosted in the earpieces and the frame is interchangeable, which is awesome because it allows you to have several different styles by swapping the frame without the need to buy the most expensive part of the glasses - earpieces. Heck, you can even have prescription glasses frame on it! Putting glasses together was quick and easy - just "click-in" the earpieces into the frame and you are good to go, 5 sec. Then you need to turn on the glasses (the button is at the bottom side of the right ear arm) and connect them to your phone via Bluetooth just like a set of wireless headphones. Just install "Solos AirGo'' app on your phone and it will walk you through all necessary steps to get it up and running. A few minutes later you are ready to use your new awesome smart glasses!
Operations. The sound is crisp and clear, it's loud but not overwhelming. It uses a half-open double speaker design instead of bone conductivity technology for sound transfer. This design does not lead to high vibration at a low frequency or a poor high-frequency response, and, therefore, does not cause low sound quality or distortions. I really like that the glasses automatically detect when you put them on or off and adjust sound volume accordingly so you can hear voice prompts even when you have your glasses off. When you take them off and don't use them for several minutes (can be set up in the app) they'll go to sleep to preserve battery life automatically. Great but I'm missing a feature that would disconnect the glasses from my phone as soon as take them off and connect back when I put them on for a smooth sound transition, hope the manufacturer will add it in future updates as the glasses already have a proximity sensor in their ear arms and know when they are on or off your head.
Now about the microphone. As expected, it also works great, much better than my Apple AirPods' one. It uses so-called "Whisper" noise cancellation tech developed by Solo. From what I've read and understood, it's aimed to cancel all types of surrounding noise and at the same time boost only the narrow bandwidth of speech signal from the person wearing the glasses. Solos claims that the surrounding noise can be reduced by a whopping 45 dB, and I tend to believe this claim after testing calls with it.
Other thoughts. The glasses' battery life is a whopping 11 hours of continuous listening to music and 8 hours making phone calls. And on standby they will last for 3 days. The device comes with a beautiful case and cleaning fabric. A special charging cable is included, you can't use any random USB cable. The glasses are very well made as expected for such an expensive technology/fashion piece, the style is classic and very cool. They fit well and are very comfortable, weighing only 30 grams! End-to-end, I really like them, and I love that you can always swap the frame if you break it so I don't need to be worried too much. The only thing that I'm a bit concerned about is privacy because their speakers are semi-open and located in the ear arms outside of your ear, which means that everything that you play loudly can be overheard by a bystander. Just be aware of this side effect. But I consider it a minor issue as I primarily use them for music, and I don't make any super-secret calls :).
A few words about the Solos AirGo app. It allows you to control almost everything about these glasses, calibrate them and update firmware. It also includes a number of "AI coach" and "AI are" features aimed at improving your daily quality of life by providing you with AI-powered fitness and daily routine guidance. I personally did not use any of these features as I need them for audio playback and calls mostly and we already have way too much AI assistance in our devices, but there are some very interesting ones like, posture monitoring, posture exercises, reminders to drink water, etc., that I might just give a try soon. I'll be updating my review as I'll continue to use the glasses and gain more experience with them.
*** Bottom line ***
Yes, I totally recommend them, these are my first smart glasses and I'm very impressed by their sound quality and overall usability. They are easy to set up and use, very comfortable to wear and very intuitive to operate. They are packed with tons of features and pr...
Discover the New AirGo 3 Collection.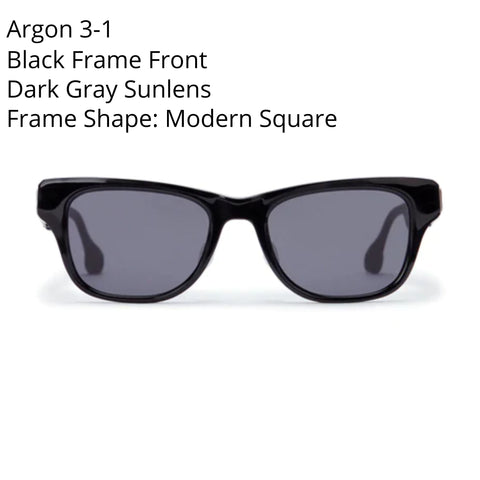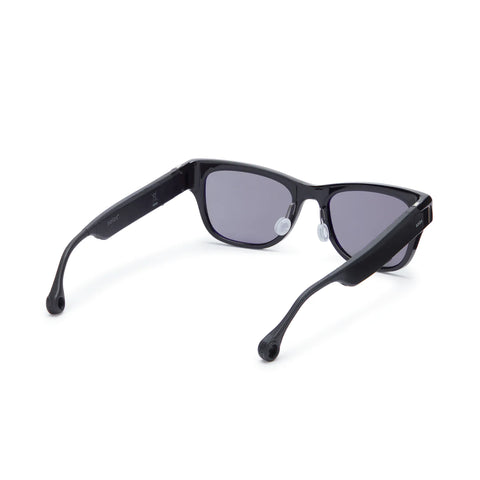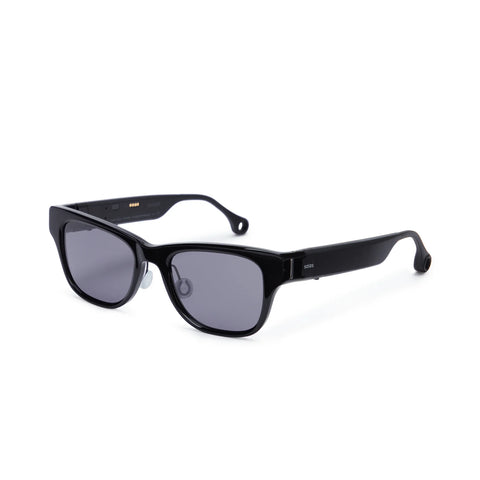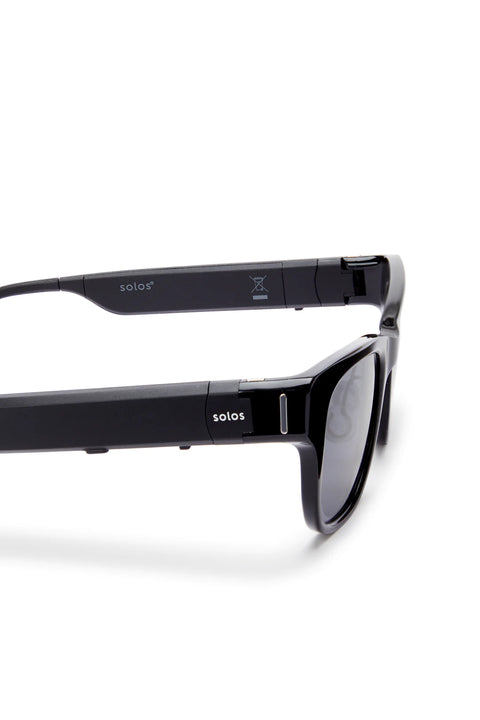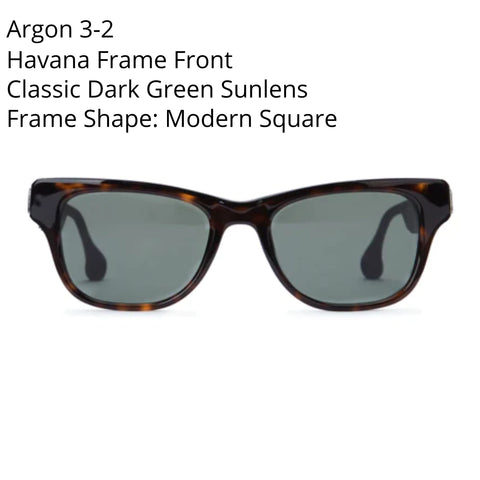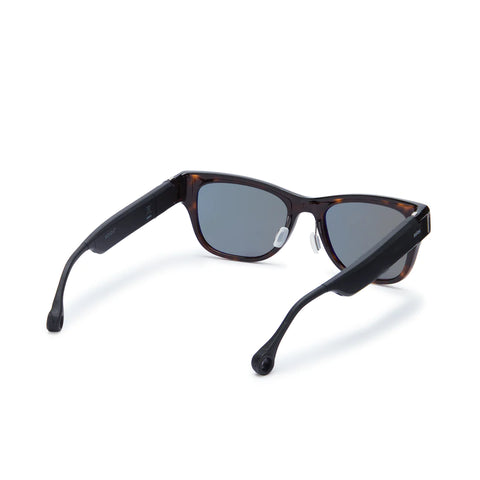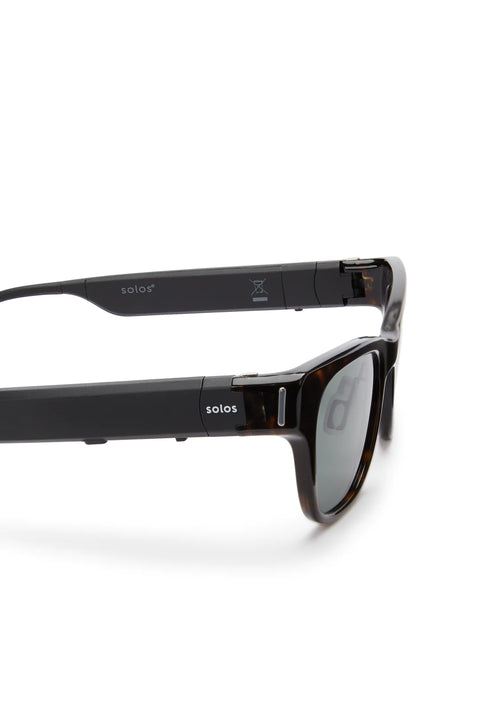 Personalize Your Audio, Personalize Your Style
AirGo™ 2, the new generation of solos Smartglasses, evolving with our patented Whisper™ Audio Technology, Surround Sound and Personalized Frames which fit your own characters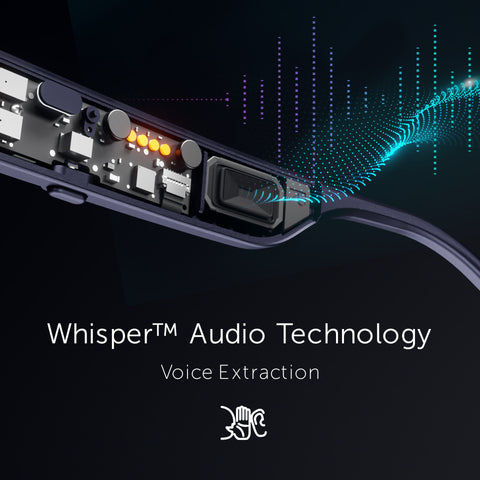 Whisper™ Audio: Voice Extraction™
Cancel out all ambient noise, only enhance the narrow beam speech signal from the user.
Longest Battery Life
11 Hours of music streaming or 8 Hours of phone call, 2.5 Days standby time in one charge.
Personalize in Style
Build a pair of unique solos Smart Glasses most suitable for you with over 60 Frame Front design.
Upgrade your Work Setup
An all-in-one working from home solution, solos Smartglasses offer bluelight protection with tech needed to take conference calls with ease.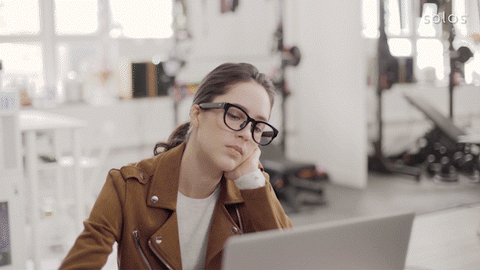 Detect and Improve your Posture
Built-in 9-axis motion sensors detects movement of your body with friendly voice prompt to remind you sit up straight.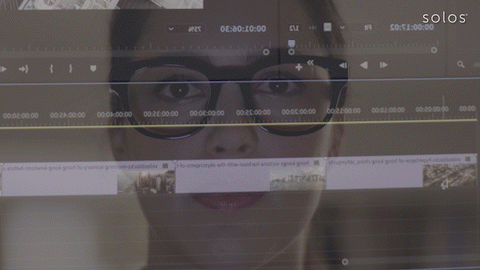 Eye Protective Lenses
All solos Smartglasses are equipped with bluelight blocking lenses or UV blocking sun lenses.
Subtly Dominate a Meeting with Whisper™ Audio Technology
Whisper™ is a unique patented noise cancellation algorithm. Providing a great ASR (Automatic Speech Recognition) performance for voice assistance as well as crystal clear phone conversation for users at any environment.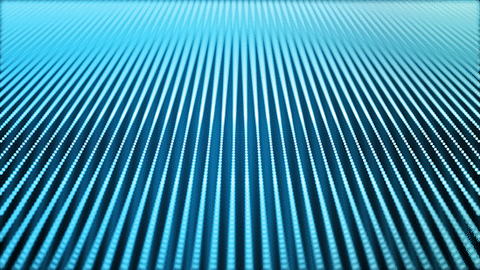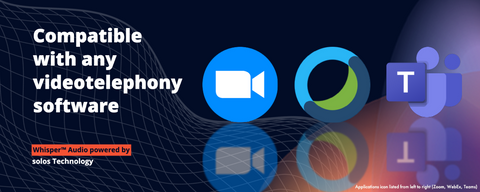 It's all about Personalization.
Through solos AirGo Mobile App Configuration, fully customize the smartglasses's Sound Equalizer, Sensitivities, Reminder, Controls, etc.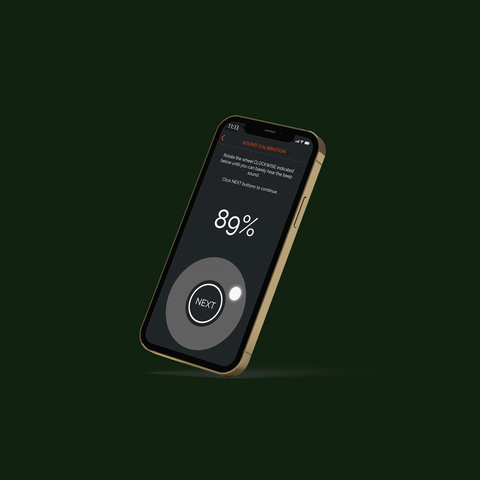 Easy to Operate with Simple Gesture Control
Access to Digital Voice Assistant, Volume Control, Phone Calls on solos Smartglasses.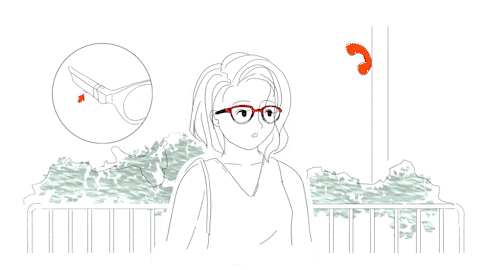 Short Pressing
Short pressing the multi-function button to answer call and skip tracks.
Sliding on Temples
Easily adjust the volume level by sliding the right temple.
Tapping
Enabling Siri/Google Assistant with a natural double tap on the frame.
What's Inside the Box
solos AirGo 2 Smartglasses * 1 / charging cable * 1
carrying glasses case * 1 / cleaning cloth * 1 / product manual * 1
remark: cleaning cloth might be replaced with a glasses cleaning pouch.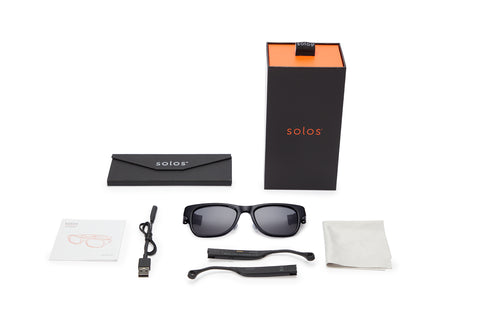 Frequently asked questions
Can the lens be removed and changed?
What is the battery performance of the smart glasses?
solos Smartglasses has equipped with the longest battery life in the industry.
In typical usage, the smartglasses battery lasts up to 60 hours on standby or approximately 11 hours of streaming music playback or 8 hours of continuous phone call.*

*measured with speaker output levels being set to 60%
Is there prescription lens option for the smart glasses?
Yes. For prescription lens, please consult optical or eyewear shops. 
What sound system does solos smartglasses use?
The smart glasses feature a semi-open dual-speaker design instead of bone conduction technology for the earphones. This design will not result in high vibration at a low frequency or a poor high-frequency response, and thus will not cause poor sound quality or distortion. The directional stereo speakers deliver high quality sound especially for listening 8D/9D music with the smartglasses.
What is the average weight of a pair of solos Smartglasses?
The smart glasses (exclude the lenses) weigh below 30 grams, which is in the same range as regular glasses.
solos Smartglasses' comfortability does not solely depends on the weight, with adjustable design, solos fit just like any regular optical or sun glasses.
How long is the warranty period?
solos Smartglasses comes with a 12-month limited warranty.
Will the solos Smartglasses get automatic updates and new features in the future?
Solos smartglasses' mobile app supports both Android and iOS. We will continue to maintain the mobile app updated to enhance new features and customer feedback. The mobile app auto-updating features shall depend on your smartphone setting, so please check your mobile phone setting.
What is SmartHinge™?
solos Smartglasses is not only a wearable gadget but also a very humanized accessories which could be seen in the details of the design.
The patent-pending Lego®-style modular temples along with SmartHinge™ of solos' smart glasses are designed for different frames' compatibility to fit individual needs.
Allowing you to switch your favourite frames among different shapes, sizes, colors, materials to express your own fashion style.
What is Whisper™ Audio Technology?
One of a very distinctive features of Solos' AirGo™ smart glasses is its built-in Whisper™ Audio Technology. 
Whisper™ is a unique patented noise cancellation algorithm developed solely by solos. Which adopts many state-of-the-art noise cancellation algorithms such as beamforming, normalized least mean square (NLMS), voice activity detection (VAD) and wiener filter. It cancel out all kinds of ambient noise and at the same time only enhance the narrow beam speech signal from the user.
With Whisper™ Audio Technology, the ambient noise can be reduced by 45dB which tremendously improves the signal to noise ratio (SNR) and results in providing a great ASR (Automatic Speech Recognition) performance for voice assistance. As well as crystal clear phone call conversation for user at any environment.
Product Description
Experience the all-in-one convenience of having your audio, connectivity and fitness goals built right into your sunglasses. Solos smartglasses provide a 2-in-1 solution to sunglasses and headphones, combined. With music, phone, and voice assistance built right in, simply grab one device and you're ready to run. Solos smart sunglasses feature technology that was developed by MIT scientists, including proprietary Whisper Audio Technology, which hones in on your voice, cutting out background noise, so you can have crystal-clear phone calls no matter your environment. Built-in gesture controls and easy access to digital voice assistants like Siri and Google Assistant make everything from listening to music, answering calls, or performing a search easier than ever while biking, boating or jogging. Key for active lifestyles, Solos Neon 1 smart sunglasses are ideal for running, walking, hiking, and more - allowing for superior music-listening quality that still allows for situational awareness. Solos is there, wherever you need your favorite playlist to keep you going. Includes 1 pair of Solos smart sunglasses, microfiber carrying pouch charging cable and user manual. Specs: Solos smart glasses support Android and iOS - 11 hours of music streaming or 8 hours of phone call time - Bluetooth Range: 33 feet - Quick charge: 15 mins for approximately 3 hours of operating time - Normal Charge: 1.5 hours to full charge
| Technical Specification | AirGo 2 Argon 3 Smartglasses |
| --- | --- |
| Mobile OS Platform | Support Android and iOS |
| Wireless Bluetooth | BT 5.0 an BLE Wireless |
| Bluetooth Range | ~ 33ft at open space |
| Operation Time | Approx. 11 hours of streaming music playback or 8 hours of phone call |
| Standby Time | Approx. 2.5 days with Smartphone connected |
| Quick Charge | 15 mins charging up to approx. 3 hours of operating time |
| Normal Charge | Approx. 1.5 hours to full charge |
| | |
| Frame Specification | Argon 3 Smartglasses |
| Frame front material | Acetate |
| Lens type | Nylon, Blue light and UV blocking |
| Temple and tips color | Black |
| Temple and tips material | TR90, TPE |
| Size | 53-20-140mm |
| Weight (Including lens) | 38g |
| What's in the box | Smartglasses frame front, Solos AirGo 2 temples (One Pair), Magnetic charging cable, Glasses case, Cleaning cloth, User manual |
CES 2022: Human Elements in solos Smartglasses