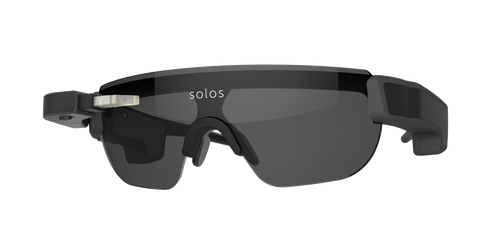 Model Name: Solos Smart Glasses
Price: $499
Weight: 2.29 ounces
Use: Running, Cycling
Battery Life: 6 hours
Ahead of the 2016 Rio Olympics, developers at Solos partnered with the USA Cycling team to solve a common training dilemma. Athletes already have access to plenty of data and biofeedback from their workouts. What they needed was a way to make use that data to ultimately optimize their training and performance. The solution? A pair of brainy sunglasses that allow cyclists to access training data in real time on their rides, merging the world of AR with sport performance.
The Solos smart glasses feature the world's smallest optical module—the size of a human pupil—mounted on the wearer's right-side lens. This tiny projector casts a 5-inch, virtual heads-up display that provides a continuous stream of workout metrics in high-res and crisp, full color. Pairing the glasses with the Solos smartphone app and a GPS-enabled watch lets you view your heart rate, pace, distance, and much more in real time—without ever taking your eyes off the road.
But here's where the glasses truly shine—they can take this data, and actually harness it to guide your training. If you fall off pace on your long run, the glasses will indicate on screen to speed up. You can set a goal time for a distance and the glasses will pace you to your desired finish time. You can get turn-by-turn directions on an unfamiliar route, and even have the glasses read them aloud to you. All of these features let athletes free up mental energy to hone in on their workouts, and not worry about staring down at a watch.
You don't have to be an elite marathoner or Olympic cyclist to benefit from Solos glasses. The space-age specs are great for any tuned-in and tech-savvy runner who loves to see their stats. Social runners can share their routes across platforms like Strava, Facebook, and MapMyRun/Ride, take phone calls on the go, and even chat in a group using the built-in walkie-talkie feature—a feature more helpful for cyclists than runners, admittedly. But runners of every speed who want to take their training to the next level can benefit from mile-by-mile splits with full performance analytics. Whatever workout data you're looking for, Solos glasses can dish it.
One of the coolest things about Solos glasses is that they're completely customizable to you. Bluetooth compatibility lets you load up the glasses with sensors of your choosing, giving you access to data like cadence, elevation, and even oxygenation. It's up to you to determine how much or how little data you see on your run, and you can opt for those metrics to scroll along on the periphery, or read out from the built-in speaker. If you take the glasses out on the bike for a bit of cross training, they seamlessly pair with your power meter. And when you finish your workout, the companion app compiles all your data into a tidy training log that you can access anytime.
While the specs certainly are brainy, Solos didn't sacrifice any performance as a pair of sport shades. The sleek frames are built from a durable plastic-nylon blend to resist drops, sweat, and dust, while remaining lightweight and aerodynamic. The interchangeable lenses offer excellent clarity and protection, and banish sun glare. And if you have to wear prescription glasses, the Solos can even customize a pair with your Rx.
So, it's up for the runners to decide: Are smart glasses the new smart watch? Are they the technology that will launch our training light years into the future? Will an elite don a pair of Solos to finally break the 2-hour marathon barrier? Maybe, maybe not. But one things is for certain: the athletes who frame up with Solos glasses will be training much smarter—hands down, heads up.
Source: runnersworld