NEW HEADS-UP DISPLAYS PACK A COMPUTER AND CAMERA INTO A PAIR OF SHADES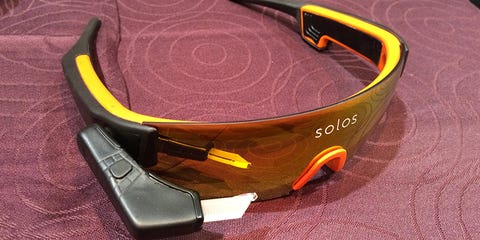 When we reviewed Recon Instruments' Jet sunglasses with heads-up display (HUD) recently, we said it was one of the most intriguing examples of wearable technology we'd seen for cyclists. Now, Recon's got company.
There are two new players in the HUD-enabled sports wearables market. Everysight offers a set of shades with comparable features to the Recon Jet, but with a slightly different design and user interface, plus some significant technological assets. A third company, Kopin, debuted another system at Interbike called Solos under a brand of the same name.
I got a chance to ride briefly with a late prototype version of the Everysight system last week around Boulder. Although the pair I used had some minor bugs (like dropping the connection to my HRM strap), I still came away impressed with the functionality and quality.
MORE FROM BICYCLING
EXCLUSIVE: "The Space Between" teaser
The glasses themselves look like a chunky pair of full-wrap shades. Unlike the Jet, all of the hardware is packed into the main frame; there's no projection arm protruding from one side (the Solos use a similar projection arm system to the Jet). That makes them a bit stealthier to wear. Although the bulky arms and top frame make the glasses stick out from your face, they blend in underneath a helmet and many riders may not immediately notice that you're not wearing a standard pair of sunglasses.
     RELATED: How to Choose The Right Sunglasses Lenses for Cycling
The heads-up display is fascinating. The green display is crisp and clear. It sits more or less in the center of your field of vision, although you can adjust position to some extent. The navigation is intuitive, with forward swipes on the touch-sensitive temple toggling through different screens.
Riding uphill, I swiped forward to a climb screen, which displayed information like hill gradient. At the summit, a quick tap brought up a map that showed me my position on the descent, including upcoming switchbacks. That allowed me to essentially "see" farther down the road than I could unaided.
When I tested the Everysight system, I had no eyestrain, and the lens optics themselves were clear and distortion-free, although the tight-fitting temple pieces on the prototype version I wore created some unpleasant pressure.
Was all this information distracting? Less than I had feared. The HUD focus is set to, more or less, infinite distance, so unless you're looking at something very close to you, switching your view from the road to the HUD display is effortless and almost instantaneous; I never had a problem looking "past it" to see my surroundings, and it's actually easier to use than looking down at a computer display. There's also a mode that drops the HUD out of view entirely.
The sophistication of the Everysight system is not surprising; the technology comes from parent corporation Elbit Systems, a defense contractor that designs HUD systems for many Western military aircraft. There are significant challenges in miniaturizing the technology, but the Everysight system itself is elegant and refined. For its part, Recon was recently acquired by Intel , and Solos' parent company Kopin is a publicly traded company which, like Elbit, makes wearable computing technology for the military and industrial purposes. The original Recon snowsports goggle, the Oakley Airwave, used Kopin's HUD technology, but the company quietly divested its stake in Recon in June when Intel acquired the company.
I wasn't able to try out the Solos system at Interbike, but I did put on a pair of the glasses, which are lighter than the Everysight prototype system I tested. There's one notable difference in design: The Solos system's navigation is voice-activated and doesn't involve swiping a touch-sensitive bar on the temple. "We felt it was necessary to be able to use it and keep your hands on the handlebars," said Ernesto Martinez-Villalpando, Solos' program director. Other than that, most of the features are similar to what Recon and Everysight offer.
     RELATED: Everything We Love from Interbike 2015
What's most interesting for cyclists is what a HUD system makes possible: everything from the ability to instantly snap a photo (and share it on social media) without even breaking your pedal stroke, to pacing a live Strava segment "race" against your PR or a KOM/QOM.
The systems will be expensive (Recon just lowered the price on its Jet system to $500), but HUD sunglasses are essentially three products in one: sunglasses, a high-definition still and video camera, and a GPS computer that can pair to other wireless devices like your phone or power meter. That means you wouldn't need a head unit or a GoPro, two expensive pieces of riding gear found on many handlebars these days.
Everysight opted not to disclose significant details at this time, including price and on-sale dates, which should be announced later this year. Solos hopes to begin sales in spring of 2016, and the Recon Jet, of course, is available now. It remains to be seen whether HUD systems gain significant traction beyond a very tech-centered subset of cyclists. But after years of promises, the technology is finally here.
Source: bicycling.com