Practical Necessity for Outdoor Activities
Protecting your Eyes from UV Light
Neon smart sunglasses provides UV400 protection from harmful UV rays and bluelight blocking to reduce digital eye strain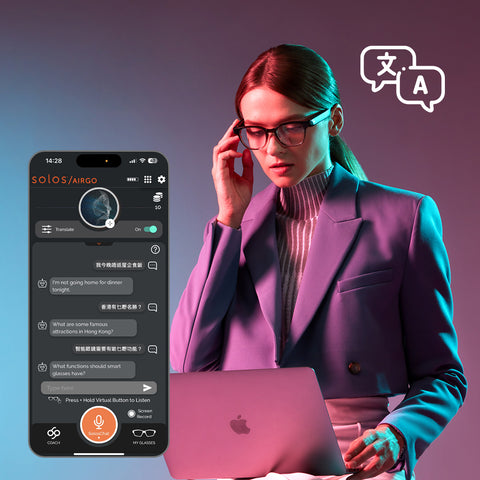 solosChat Translation & Virtual Assistants
solosChat can producing a translation within seconds, it holds the potential to generate quick translations of advertisements, business plans, and proposals without compromising on quality. It also serves a wide range of language-related tasks like answering questions, summarizing text, writing creative content, etc.
solosChat comes in handy for various complex tasks, such as language generation, language dialogue management, and language comprehension.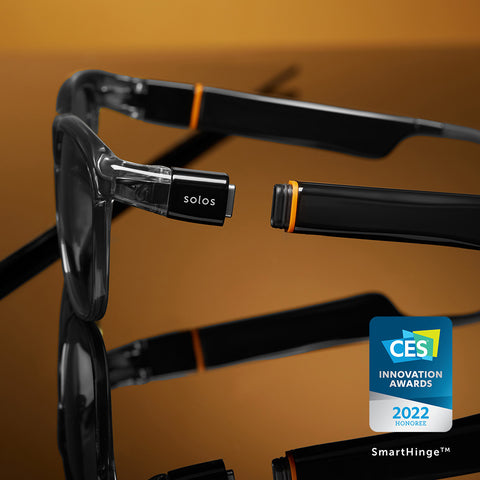 Personalize in Style
Build a pair of unique solos Smart Glasses most suitable for you with over 60 Frame Front design.
Whisper™ Audio: Voice Extraction™
Cancel out all ambient noise, only enhance the narrow beam speech signal from the user.
Solos Chat Powered by ChatGPT 
Solos is changing the way people interact with the world, harnessing the power of AI and the most natural form of communication: voice. Powered by the Solos app, AirGo™3 offers ChatGPT/OpenAI capability for voice search, translation, texting, and more.
Conversational AI capabilities through a comfortable, lightweight form factor will also change the way we live, work, and interact - enabling users to communicate in any language, anywhere, without needing to look at a phone, access information safely on the go, and stay present in current surroundings by consuming information audibly through an open-ear design.
Whisper™ Message & Event
Superior Audio Quality Through Whisper™ Technology
AirGo™3 delivers clear and crisp audio with a volume of up to 100 decibels for music, podcasts, calls, and more. Patented Whisper™ Technology offers superior speech recognition that removes ambient noise for the best sound quality even in the noisiest environments - making it ideal for conversational AI through ChatGPT. The dual-direction speakers with an open-ear design allow for situational awareness when on the go to prioritize safety. Activate Whisper Messages and Whisper Events within the solos / AirGo™ app to automatically have messages read aloud from text, WhatsApp, Teams, calendar events and more, as soon as they are received.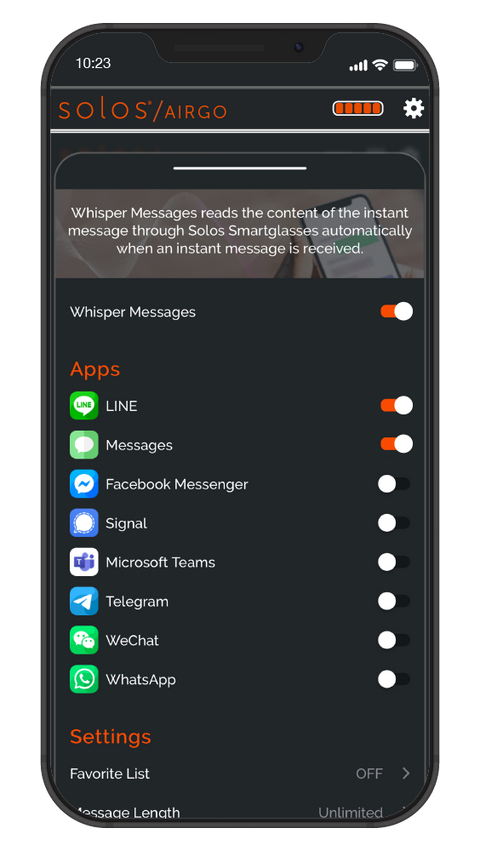 SOLOS App
solos AirGo™ is a specialized mobile app featuring the latest AI technology for solos' smartglasses users to personalize, track, and monitor their posture, fitness, and more to build healthy habits and achieve targeted fitness goals.
AI Coach
Posture Monitor
POSTURE MONITOR reminds to correct posture, especially good for those who always sit at computers. Maintaining proper posture is one of the simple strategies to prevent back pain.

Posture Exercise
POSTURE EXERCISE provides desk-friendly exercise to help you stretch out your muscles to get your blood moving and prevent stiffness, helping you to avoid many health ailments.

Step Count
STEP COUNT tracks how many steps you take and how far you walk. Just input your correct information in settings, it is also used to calculate your walking distance and calories.

Posture Calibration
POSTURE CALIBRATION helps to calibrate your posture before you start any activities in this app.

Stretch Exercise
STRETCH EXERCISE is a posture technique helping to improve your muscle flexibility and range of motion.

Drink Water
DRINK WATER REMINDER allows you to set recurrent reminders for keeping you the intake of enough water daily.​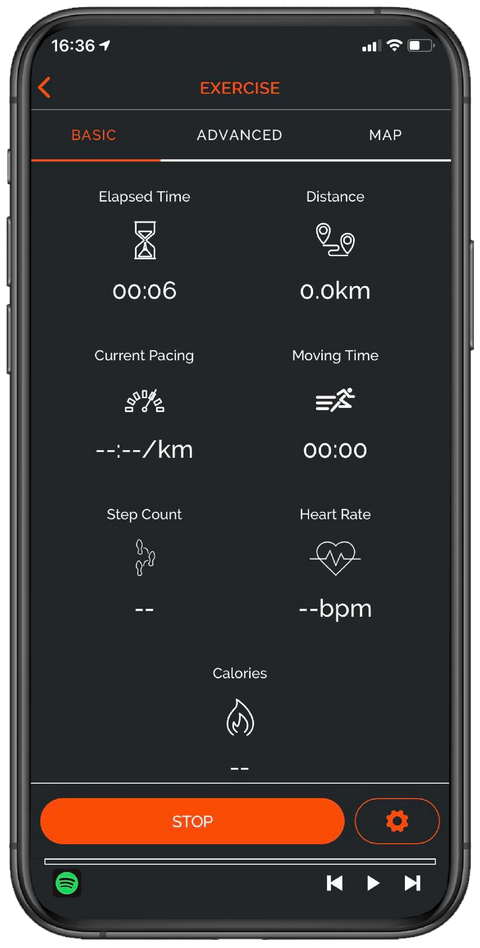 AI Coach
Exercise
EXECRISE helps track your all-day fitness activity — distance, current pacing, moving time, step count and heart rate, also automatically calculates your current stride, current cadence and left-right balance based on certain factors.

Fat Burn
FAT BURN assists you to carry out fat burn exercise by simply following a series of walking levels. Each level is consisted of 3 sessions, Warm Up, Fast Walk and Cool Down, which is set to be completed around 30 minutes.

Posture Training
POSTURE TRAINING helps you to maintain in proper posture to keep your head straight during running, reducing the chance of causing neck, shoulders and back pain.

Interval Training
INTERVAL TRAINING involves a series of high intensity workouts interspersed with rest or relief periods, helping you to improve your aerobic capacity, benefit heart health as well as weight loss.

Cadence Training
CADENCE TRAINING helps to train yourself to run at your optimal cadence in order to reduce over-striding and decrease the impact forces on your muscles and bones, minimizing the risk of injury.

Squats
SQUATS is designed in this app as an advanced workout for helping the users to build muscle, improve flexibility and maintain balance.
Which solos® SmartGlasses is right for you?